Pour une fois cette saison, je ne vais pas réserver ce résumé à notre équipe 1. Pourtant, l'enjeu de cette rencontre était très important puisqu'une défaite nous condamnait à descendre en Nationale 1. Je vais parler de l'ambiance de cette rencontre.
En effet, notre vaillante équipe va jouer « sa finale » à Talence le 6 avril pour le maintien dans l'élite nationale après avoir obtenu le match nul contre l'équipe d'Oullins ce samedi 16 mars. Mais surtout, elle a été encouragée par un nombre de spectateurs incroyable, qui ont su faire du bruit comme dans un véritable chaudron !
For once this season, I will not reserve this summary to our team 1. However, the stake of this meeting was very important since a defeat condemned us to go down to Nationale 1. I will talk about the atmosphere of this meeting.
Indeed, our valiant team will play « its final » in Talence on April 6th for the upkeep in the National Elite championship after obtaining the draw against Oullins' team this Saturday, March 16th. But above all, the team was encouraged by an incredible number of spectators, who knew how to make noise like in a real cauldron!
Laurent, un joueur de notre club, professeur des écoles dans un collège de Pierrefitte, a eu l'excellente idée avec certains de ses collègues de faire venir la classe bad du collège Pablo Neruda. Ces collégiens ont mis le feu à notre gymnase pour encourager nos joueurs et j'en suis certain, ont permis ce résultat, qui nous permet de défendre encore toutes nos chances pour le maintien.
Juste avant la rencontre et après une superbe séance photo avec les joueurs, les élèves ont pu échanger avec nos joueurs. Je me demande qui étaient les privilégiés car j'ai l'impression que nos jeunes collégiens ont transmis leur pêche à nos joueurs.
Un immense merci à vous tous pour vos encouragements. Nous nous en souviendrons longtemps et espérons reproduire l'opération très vite.
Je tiens aussi à remercier le président du Comité Départemental du Badminton qui est venu aussi nous supporter jusqu'à tard dans la nuit puisque la Guinguette et le club avaient organisé notre 7esoirée Bad&Pros Night Fever, avec comme thème Hawaï, en compagnie de cette belle équipe d'Oullins qui a eu la gentillesse de partager ce moment convivial avec qui nous avons partagé les points de cette belle rencontre.
Pour Oullins, l'enjeu de cette rencontre était le maintien ; ils l'ont obtenu ! Bravo à eux !
Comme je le précisais, prochaine journée hyper importante pour notre équipe 1. Nous jouons le maintien contre le club de Talence (Gironde) qui est dans la même situation que nous. C'est la raison pour laquelle je qualifie ce match de vraie finale de Champions League !
Précision importante : un match nul contre Talence suffirait à rester en Top 12 !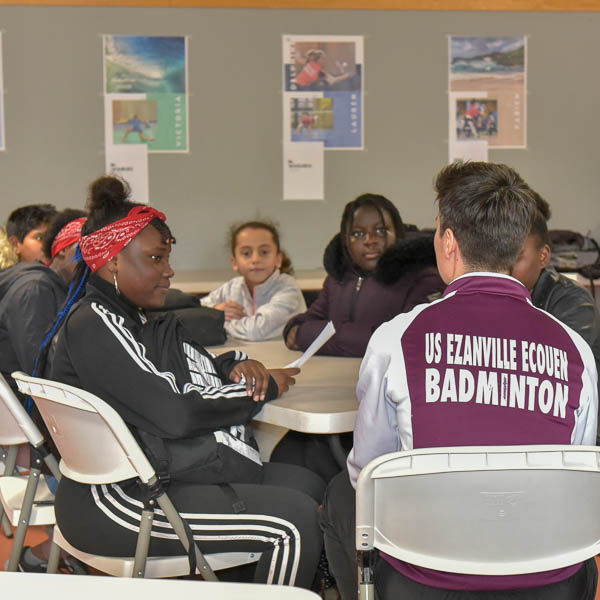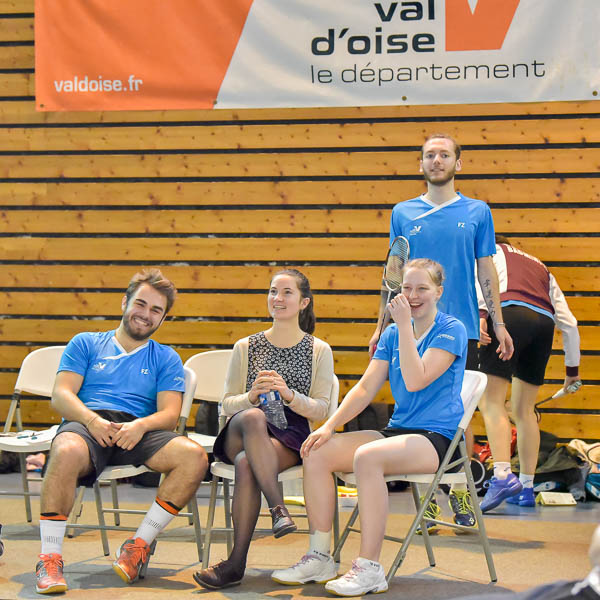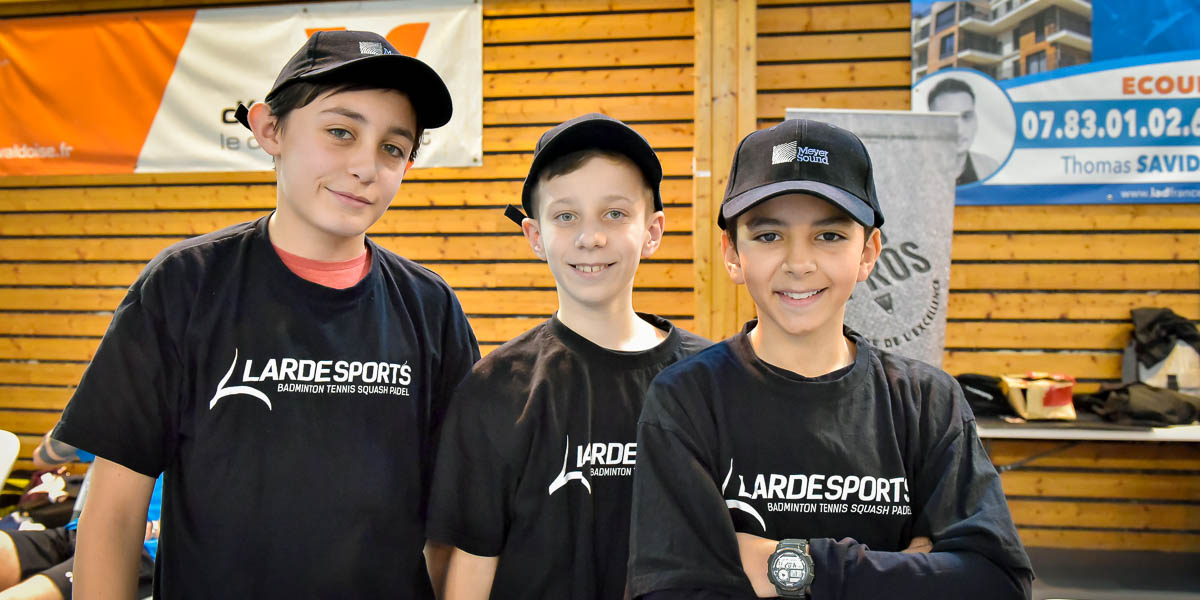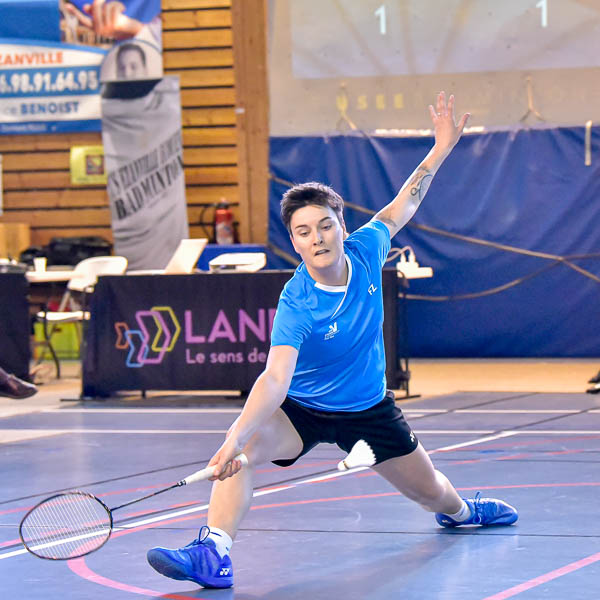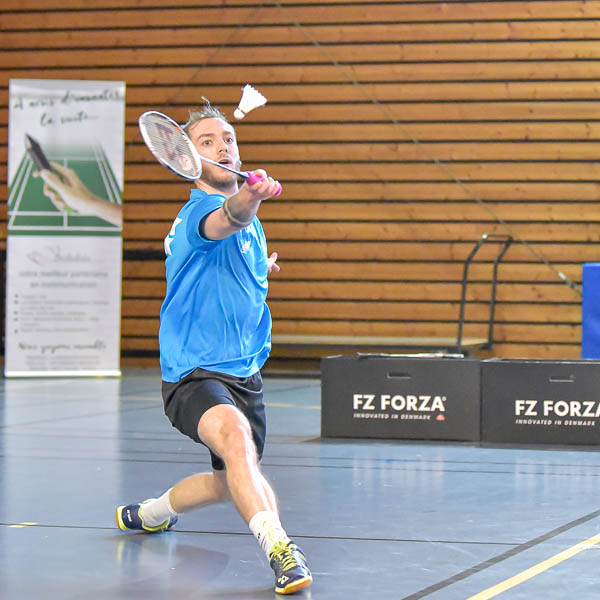 Laurent, a player from our club and a middle school teacher in Pierrefitte (a city near Ezanville), had the excellent idea with some of his colleagues to bring badminton class players from the middle school called Pablo Neruda. These kids set fire to our gym to cheer on our players and I'm sure, have allowed this result, which allows us to still defend all our chances of upkeep.
Just before the match and after a great photo shoot with the players, the students were able to interact with our players. I wonder who the lucky ones were because I have the impression that our young students boosted the spirit of our players. I can't thank you enough for your encouragement. We will remember it for a long time and hope to reproduce the operation very quickly.
I would also like to thank the chairman of the Badminton County Committee who also came to support us late into the night as the Guinguette and the club had organized our 7th evening Bad & Pros Night Fever, with the theme of Hawaii, in the company of this beautiful Oullins team who was kind enough to share this friendly moment with whom we shared the points of this beautiful meeting.
For Oullins, the stake of this meeting was the upkeep; they got it! Congratulations to them!As I said, next day is super important for our team 1.
We play the upkeep against the club Talence (Gironde) who is in the same situation as us. That's why I call this match a true Champions League final!
Important precision: a draw against Talence would be enough to stay in Top 12!