Quand le sort s'acharne…
Effectivement, il y a des rencontres où l'on gagne, qui sont des moments qu'il faut retenir afin d'avancer et construire dans le positif. Et puis, il y a des moments où cela va moins bien, pour différentes raisons. Ces situations permettent aussi de grandir et gagner en expérience ou alors asseoir des convictions.
When the spell goes on …
Indeed, there are meetings where you win, which are moments that must be remembered in order to move forward and build in the positive. And then, there are times when things are not so good, for different reasons. These situations also make it possible to grow and gain experience or to establish beliefs.
Cette rencontre avait mal démarré, avant même de commencer !
Delphine est un peu diminuée.
Victoria m'annonce jeudi soir avoir une fièvre carabinée qui ne descend pas assez tôt pour pouvoir venir.
Et, clou du spectacle, Lilian oublie son passeport chez une copine qui lui fera rater son train prévu pour venir. Elle finira par arriver mais trop tard pour pouvoir disputer la rencontre. Enfin trop tard pour le club de Reims.
En effet, le club de Reims décide de ne pas accepter de faire jouer Lilian compte-tenu de son arrivée tardive (avant 16h tout de même). C'est le règlement. Alors oui, certains vont penser que je me mets dans la situation de la victime mais ce n'est pas mon propos ni mon souhait.
Je ne partage pas la vision, ni le comportement de certains clubs qui pour gagner à tout prix se cachent derrière le règlement. Je trouve cela regrettable et ne met pas en exergue les valeurs du sport. C'est mon avis et je continuerai à le défendre. D'abord le jeu et rien que le jeu !
This meeting started badly, even before beginning!
Delphine is a little diminished. Victoria told to me Thursday night having a fever that does not come down soon enough to come. And, the highlight of the show, Lilian forgets her passport at a friend's house that will make her miss his train planned to come. She still arrived but too late to compete – well too late for the club of Reims.Indeed, the club of Reims decides not to accept Lilian to play given her late arrival (before 4 PM anyway). This is the rules. So yes, some will think that I put myself in the situation of the victim but it is neither my intention nor my wish. I do not share the vision or the behavior of some clubs that, to win at all costs, hide behind the rules. I find this unfortunate and does not highlight the values ​​of sport. That's my opinion and I will continue to defend it. First the game and nothing but the game!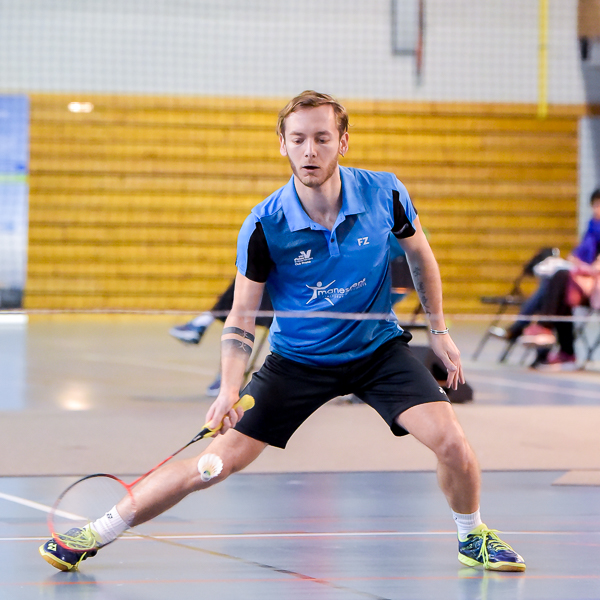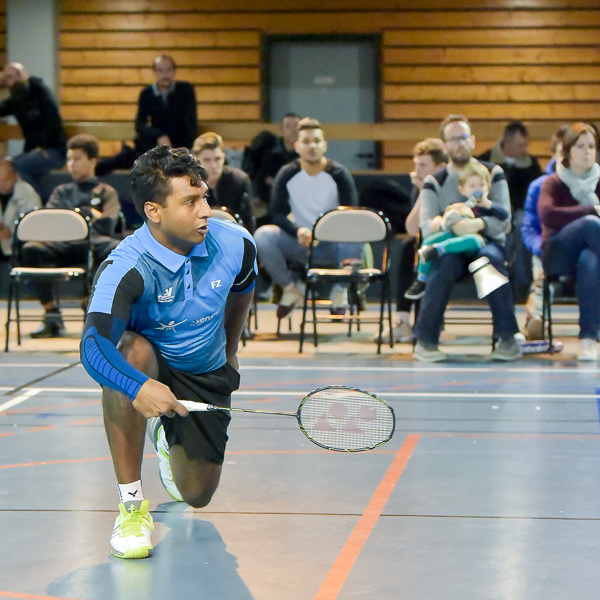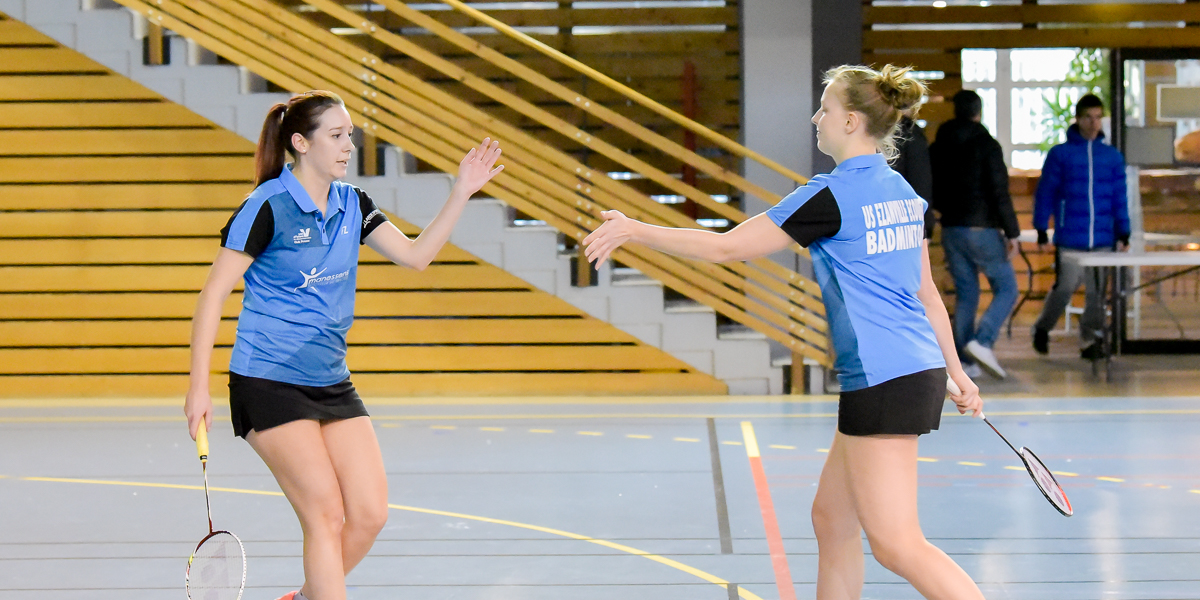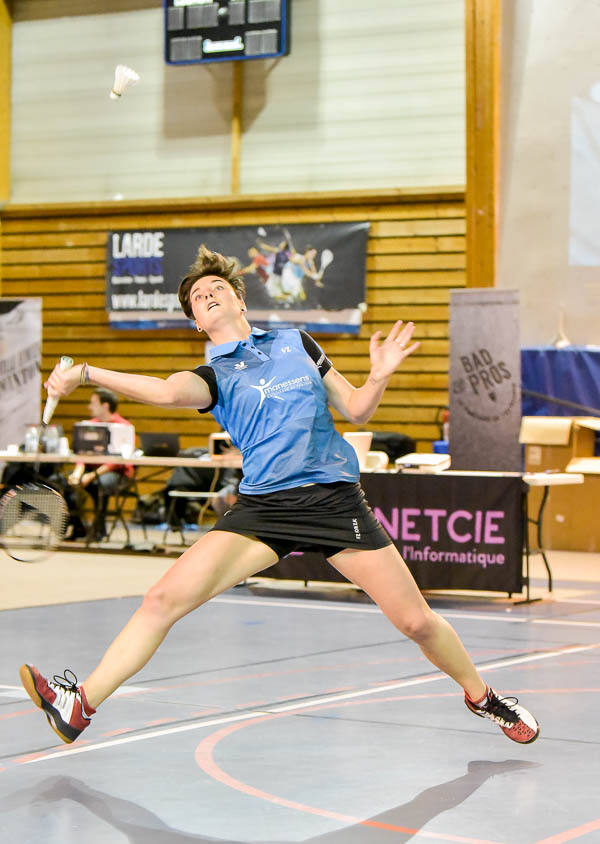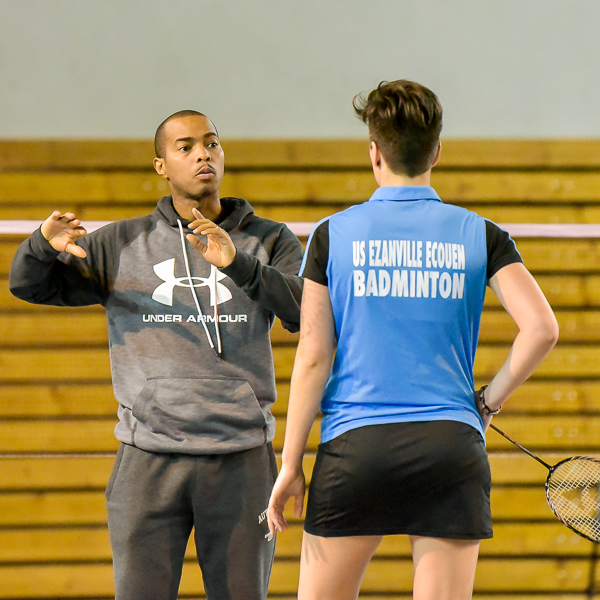 Bref, vous l'aurez compris, cette journée n'est pas sportivement bien partie.
Mais alors pour le reste… Ils sont forts, ils sont très forts !
Que de cœur, que d'amitié, que d'encouragements, que de plaisir de jouer, simplement de jouer, que de soutien… J'aime aussi le sport pour cela. Ces moments de convivialité, où dans l'adversité, des valeurs « saines » reprennent le dessus !
Je suis peut-être naïf ou un doux rêveur mais je souhaite encore croire à tout cela et notre équipe me le rend bien ! Merci ! Merci beaucoup. C'est bon de vous avoir !
In short, you will understand, this day had not sportingly well started.But then for the rest … They are strong, they are very strong!What kind of heart, what friendship, what encouragement, what fun to play, just play, support … I also like sport for that. These moments of conviviality, where in adversity, « healthy » values ​​take over!I may be naive or a sweet dreamer but I still wish to believe all this and our team makes me feel good! Thank you ! Thank you very much. It's good to have you!
Avant de vous détailler cette rencontre, je voulais remercier le public qui est venu nous encourager, Pierre Gregoire, adjoint au Maire d'Ézanville qui est passé nous voir. De même que Claude Berton, Président de l'USEE et Monique Pepinster, secrétaire de l'USEE (oui Monique, je ne suis pas venu te saluer car pris dans la rencontre mais je t'ai vu !)
Un gros merci à nos coachs Michel et Fabrice qui étaient présents pour nous épauler. C'était bon de vous voir !
Lauren, Laetitia et Mevissen qui ont complété l'équipe avec bravoure et bonne humeur, merci les copains !
Et évidement tout le staff pour leur soutien et leur présence.
Before detailing you this meeting, I wanted to thank the public who came to encourage us, Pierre Gregoire, Deputy Mayor of Ézanville who came to see us. Like Claude Berton, President of the USEE and Monique Pepinster, secretary of the USEE (yes Monique, I did not come to greet you because taken in the meeting but I saw you J) A big thank you to our coaches Michel and Fabrice who were present to support us. It was good to see you! Lauren, Laetitia and Mevissen who completed the team with bravery and good humor, thanks buddies! Of course thanks to all the staff for their support and their presence.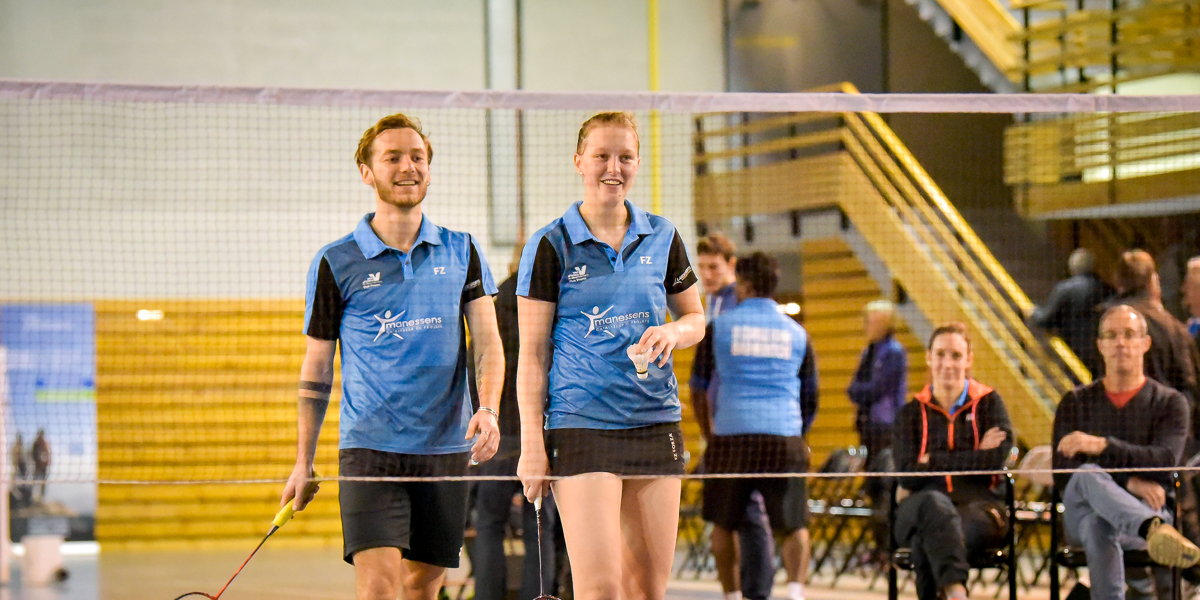 Compte-tenu de notre effectif en présence et de la stratégie de notre capitaine du moment, Gregor, nous n'avons pas d'autre choix que d'aligner Laetitia en SD2, ce qui provoque une défaite automatique et un point en moins sur la rencontre en raison de son trop faible classement en simple (conséquence du refus de Reims de laisser jouer Lilian). Nous partons avec un score sur la rencontre de :
+1 pour Reims et -1 pour nous
Given our current squad and the strategy of our current captain, Gregor, we have no choice but to bring Laetitia into SD2, which causes an automatic defeat and one point less on the encounter because of her low ranking in single (consequence of the refusal of Reims to let Lilian play). We start with a score on the meeting of:+1 for Reims and -1 for us
Le premier match « officiel » est le SH1. Nous partons serein avec Tanguy qui est au-dessus. Il confirme en remportant ce match.
1 à 0 à pour Reims (oui, nous revenons à 0) Les non matheux suivent ? J
Le Double dame est une première puisque Delphine joue avec Laetitia qui a fait son maximum pour glaner des points. Et elles y parviennent ! Laetitia joue très bien mais l'écart de niveau avec l'équipe de Reims est trop important pour que Delphine puisse faire la différence.
2 à 0 pour Reims
The first « official » match is the SH1We begin serene with Tanguy who is above. He confirms by winning this match. 1 to 0 for Reims (yes, we return to 0) Do non-mathematicians follow?  The Women Double is a first since Delphine plays with Laetitia who has done his best to collect points. And they succeed! Laetitia plays very well but the level difference with the Reims team is too important for Delphine to make a difference. 2 to 0 for Reims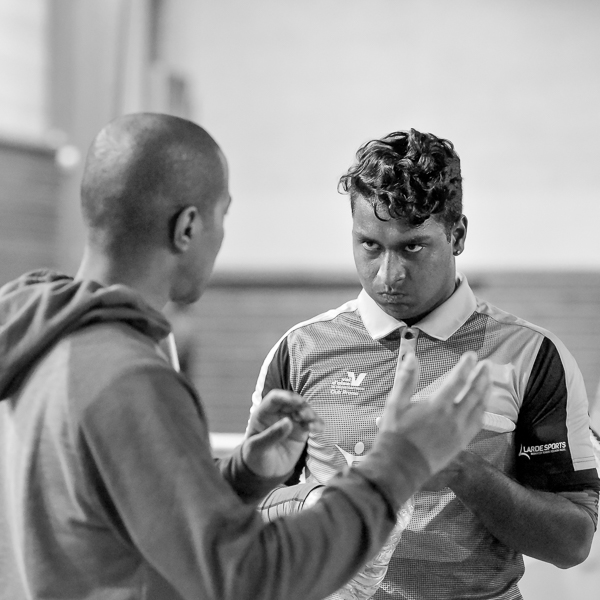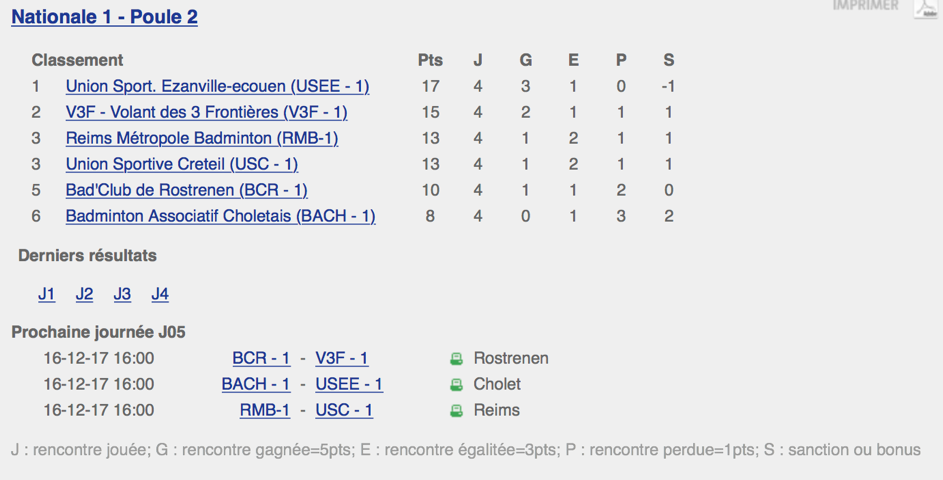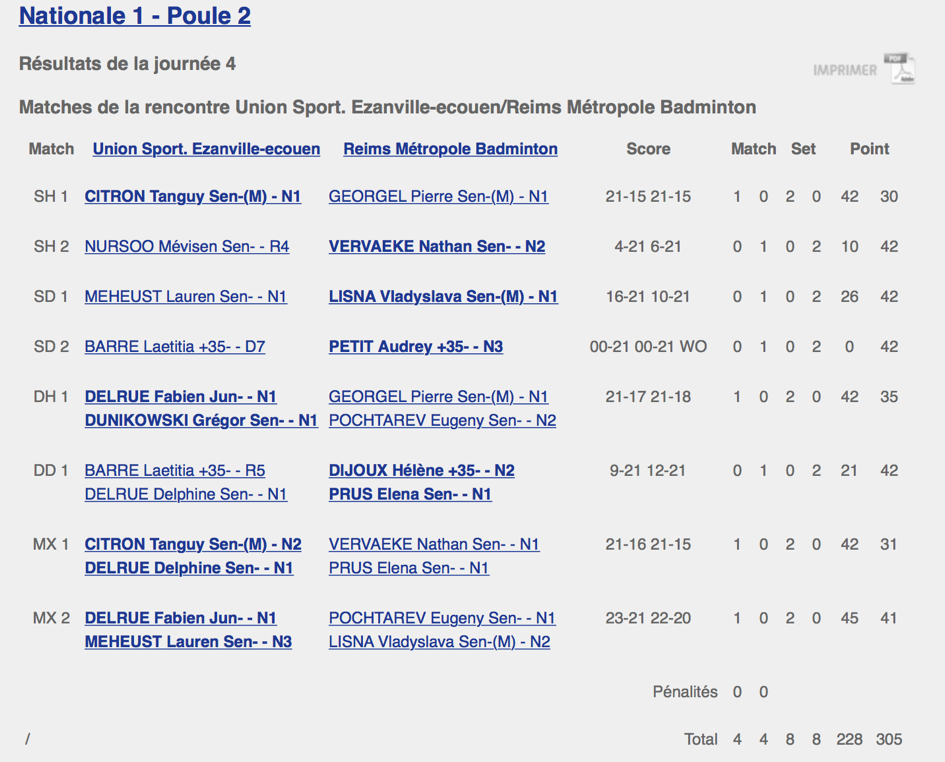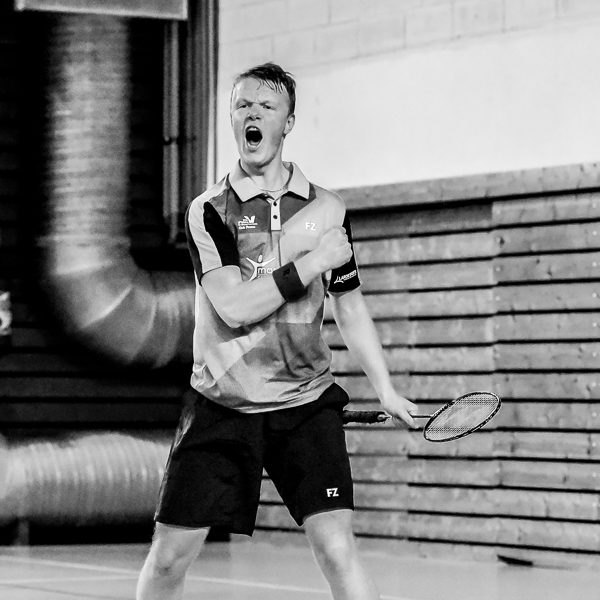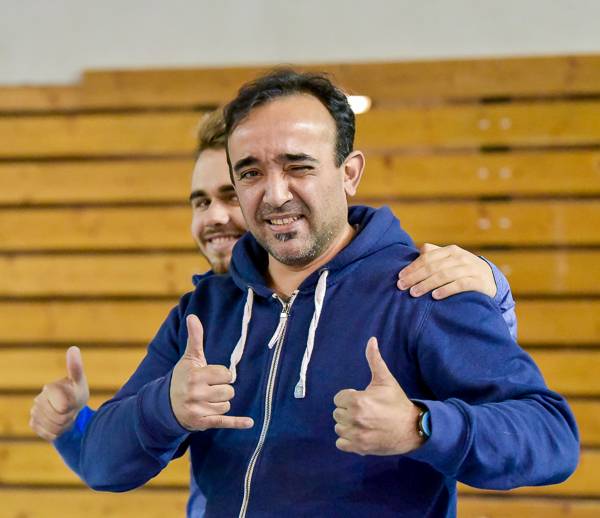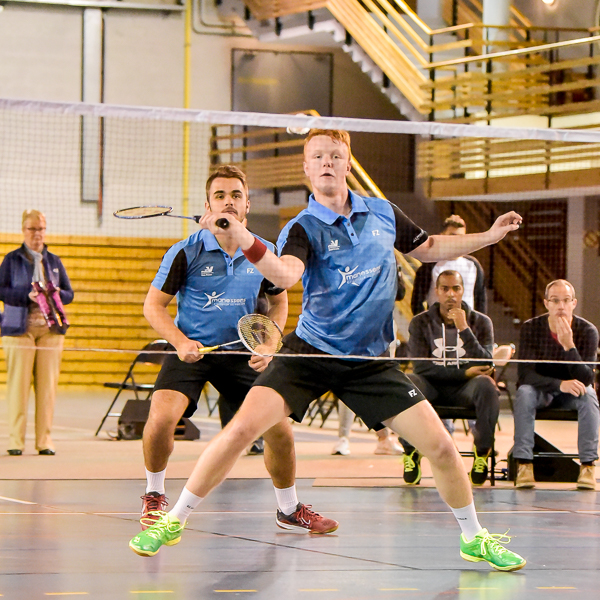 Le DMX2 est le match le plus intense du week-end. Pour la 1ère fois, Lauren et Fabien jouent ensemble. Match très accroché que notre équipe remporte en ayant su conclure par une petite accélération à chaque fin set. Bravo et beau spectacle.
2 à 1 pour Reims
Le SH2 est joué par Mevissen. Nous savons que ça va être compliqué pour Mevissen. Après un premier set difficile, il réussit à se libérer un peu plus au second set mais face à un adversaire qui devrait être N1 et non N2, la vitesse de jeu est trop importante pour que Mevissen puisse faire quelque chose.
3 à 1 pour Reims
The MxD2 is the most intense match of the weekend. For the first time, Lauren and Fabien play together. The match was very hooked and our team wins by being able to conclude by a small acceleration at each end set. Congratulations and beautiful show. 2 to 1 for Reims SH2 is played by Mevissen. We know that it will be complicated for Mevissen. After a difficult first set, he managed to break free a little more in the second set but against an opponent who should be N1 and not N2, the speed of play is too important for Mevissen to do anything. 3 to 1 for Reims
Place au DMX1 où Tanguy, associé à Delphine fait le spectacle pour le plus grand bonheur des spectateurs. Avec une Delphine diminuée, Tanguy sait adopter un jeu efficace pour aller chercher ce point important. Contrat rempli.
3 à 2 pour Reims
Au même moment, a lieu le SD1 de Lauren. Lauren, qui aurait dû jouer le SD2 si Lilian avait pu jouer (tout le monde suit ? J) perd contre une joueuse plus forte sans contestations.
4 à 2 pour Reims
Nous finissons cette rencontre par le DH avec Fabien et Gregor qui ont su accélérer au bon moment dans chaque set pour faire la différence. Victoire de l'USEE en 2 sets.
4 à 3 pour Reims
Place at the MxD1 where Tanguy, associated with Delphine makes the show to the delight of the spectators.With a diminished Delphine, Tanguy knows how to adopt an effective game to get this important point. Contract filled. 3 to 2 for Reims At the same time, Lauren's SD1 takes place. Lauren, who should have played the SD2 if Lilian could have play (everyone follows?) loses against a stronger player without challenges. 4 to 2 for Reims We finish this meeting by the DH with Fabien and Gregor who knew how to accelerate at the right moment in each set to make the difference – victory of the USEE in 2 sets. 4 to 3 for Reims
Officiellement, cette rencontre se termine par le score de 4 à 4 mais nous allons avoir un point de pénalité pour les raisons évoquées ci-dessus donc cela fera 4 à 3. Nous privons Reims des points d'une victoire et nous bénéficions d'un point de bonus défensif. Au vu de la situation avant match et du manque de fair-play de Reims, je suis très content de ce résultat. Une chose est sûre, c'est que nous pouvons compter aussi sur nos « mecs » ! Merci les gars !
Je voudrais finir sur un événement fort qui s'est déroulé il y a quelques jours lors du Scottish Open. Le ¼ de finale du Simple Dame entre Natalia Koch ROHDE (Une des meilleure danoise) et Kristy GILMOUR (TDS1 du tournoi jouant à « domicile ») a été visiblement un match de toute beauté et très serré. Kristy l'emporte sur le score de 21/12 16/21 21/19.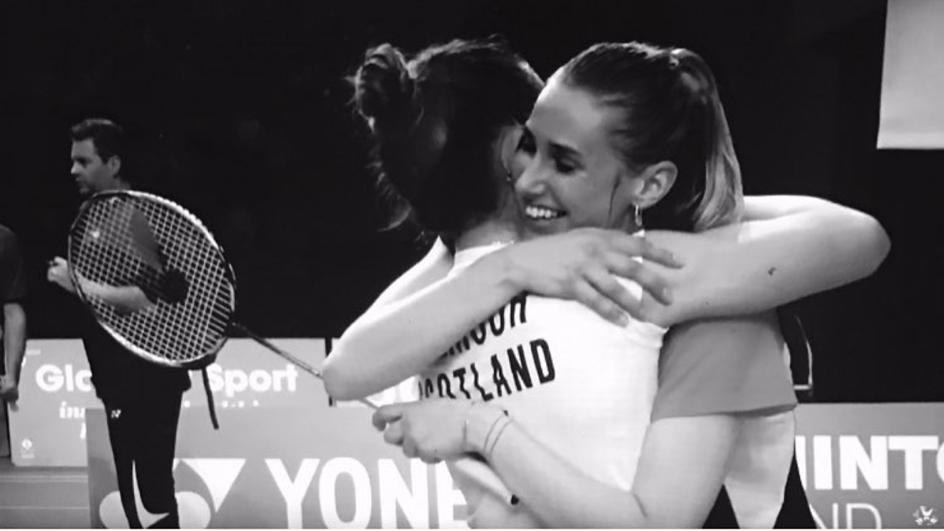 À la fin du match, les deux filles terminent dans les bras l'une de l'autre ! Comme quoi au plus niveau, il arrive que le plaisir du jeu soit bien encore présent !!
Prochaine rencontre le 16 décembre à Cholet.
Officially, this game ends with the score of 4 to 4 but we are going to have a penalty point for the reasons mentioned above so it will be 4 to 3.We deprive Reims of the points of a victory and we benefit from a defensive bonus point.
Given the situation before the match and the lack of fair play in Reims, I am very happy with this result. One thing is obvious; we can count on our « guys » too! Thanks buddies!  I did not want not to end up on a strong event that took place a few days ago at the Scottish Open. The quarter-final of the Women Single between Natalia Koch ROHDE (One of the best Danish) and Kristy GILMOUR (TDS1 tournament playing « home ») was obviously a match of great beauty and very tight. Kristy beat 21/12 16/21 21/19. At the end of the match, the two girls finish in each other's arms! Like what at the highest level, it happens that the pleasure of the game is still present! See you on December 16th in Cholet.
Eric & Lizou